Summary
Larger documents should have Overview Maps to guide the reader through the sections and chapters. 
What is an Overview Map?
An Overview Map is a specialized Map that is added to your document to provide context and prepare the reader for the content that follows.
Research suggests that your readers will better understand the contents of a document when they have been prepared for what follows.
FS Pro Document structure
In FS Pro
Blocks are grouped in Maps
Maps are grouped in Sections
Sections are grouped in Chapters
Chapters are grouped in Parts, and
Parts are grouped in a Publication.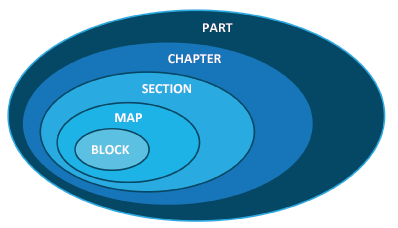 Using Sections, Chapters, Parts and Publications, you can write very large documents in FS Pro. Many writers prefer to write bottom-up, i.e. start with Maps and Blocks, and then group the Maps in a Section, Sections in a Chapter, etc.
Procedure: Inserting a Section
Let's now insert a Section to group the Maps in our sample document:
Step

Action

1

Put the cursor after your last Block, and click the Map button to add a second Map after the one you already have.

2

Enter "Software Installation Policy" as the Map title for your second Map.

3

Put the cursor at the very beginning of the document, (so before the first Map title) and click the button Overview Map.

Result: The dialog window New Overview Map appears.

4

Select Section from the list and click Insert.

Result: A Section is inserted before your two Maps.
Topic/See Page tables in Overview Maps
You will see that your Section contains a Topic/See Page table. This is a mandatory Block in an Overview Map. It is a table that lists the Maps that your Overview Map contains.
Procedure: Updating a Topic/See Page table
You can update a Topic/See Page table as follows:
Step

Action

1

Put the cursor in the empty Topic/See Page table, and click Access Tables and then Update Topic/See Page Table.

Result: The Update Options dialog window appears.

2

Select the level Map title and click OK.

Result: Your Topic/See Page table is automatically populated with Map titles and page numbers.