Summary
To start FS Pro in an existing document, you must attach FS Pro to the document.
When to use
You will know that you need to attach FS Pro 2020 if the icons and menu options on the FS Pro 2020 ribbon are not available for use.
Procedure
To attach FS Pro 2020 to an existing Word document, select the FS Pro 2020 tab in the Ribbon and select 'Map'.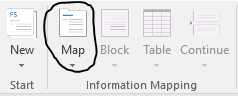 Result: The applicable FS Pro 2020 ribbon displays with its corresponding icons and menu options.