Each FS Pro for Word license has two activations. After purchasing the software, you have the ability to install the software on up to two computers.
Possible error message that may occur if you have exceeded 2 activations
"The maximum number of systems has been reached."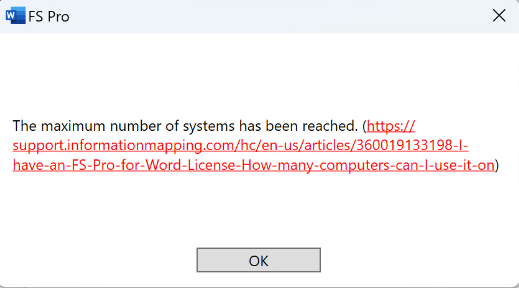 If you have purchased a new device, have reached your maximum number of activations, and want to use it on this new device. You can follow these steps:
Procedure: Remove Sessions(3)
Step

Action

1

Go to the FS Pro Console

2

Enter your email and press SEARCH When/Then table.

3

Go to the active license and Press the Button Manage

4

Look for the account/email that has this problem and press:

Remove Sessions(3)

5

Try to log in again

Note: If you are also using FS Pro on another device, you will need to log out and log in again on that device.
If you are not a license administrator, or if this does not solve the problem, then please contact our support department for assistance.
Need more info on contacting support ? Read more at https://support.informationmapping.com/hc/en-us/articles/360018943098-How-can-I-reach-Information-Mapping-s-Technical-Support-department-