Issue
When you start FS Pro for Word or open an FS Pro for Word document, the following warning appears: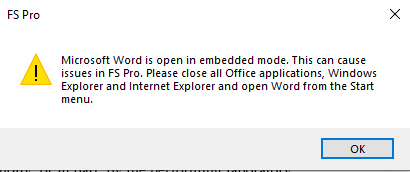 Cause
Microsoft Word is running in embedded mode. This may be caused by using Preview Pane in Windows Explorer.

Solution
Open your MS Word document in standalone mode:
Step

Action

1

In Windows Explorer: Turn off the Preview Pane. (Other applications may also cause you to get the embedded mode error, but Windows Explorer is the most likely.)

2

Close all Office applications, Windows Explorer and Internet Explorer.

(Alternatively, close all Word and FS Pro documents and exit Word, and then in Task Manager kill any left-over winword.exe process.)

3

Open your FS Pro for Word document by double-clicking it, or
Open Microsoft Word and then open your FS Pro for Word document.